Spotted Lanternfly
Learn about the Spotted Lanternfly (SLF), and what action you can take to stop the spread of this invasive insect that is threatening the northeastern United States, especially southeastern Pennsylvania.

Be the first to know. Sign up for spotted lanternfly news, updates, and alerts.
Lycorma delicatula, commonly known as the Spotted Lanternfly (SLF), is a new invasive insect that has spread throughout southeastern Pennsylvania since its discovery in Berks County in 2014. SLF presents a significant threat to Pennsylvania agriculture, including the grape, tree-fruit, hardwood and nursery industries, which collectively are worth nearly $18 billion to the state's economy.
How to Identify Spotted Lanternfly
To manage a spotted lanternfly infestation, it's important to accurately identify the pest, and that means knowing what it looks like during its life stages — including the eggs.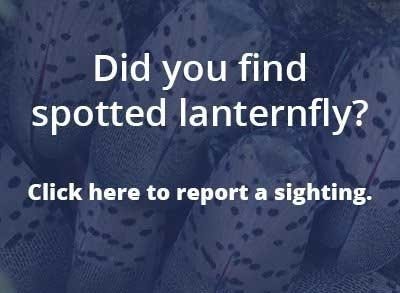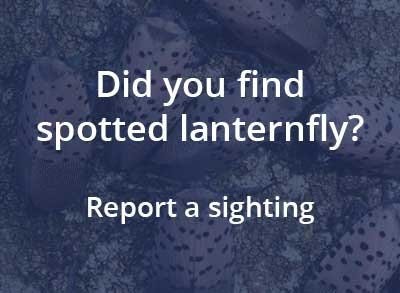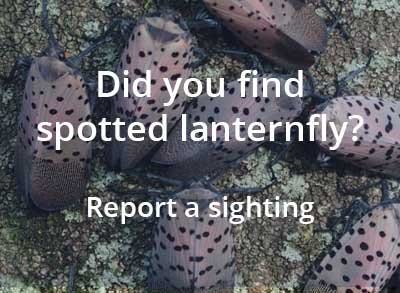 Spotted lanternfly adults are about 1 inch long and a half inch wide with wings folded. When at rest, they have grayish wings with black spots, and the tips are black with a dense series of lighter gray crossveins. When startled or flying, the insect will display hind wings that have contrasting patches of red and black, partially separated by a white band. The legs and head are black, and the abdomen is yellow with broad black bands. One of a group of insects known as planthoppers, the lanternfly is a weak flyer but a strong and quick jumper.
Nymphs develop through four stages called instars, all of which are wingless and incapable of flight. The first three nymphal stages are black with white spots. Fourth instars develop red patches on the body and are over 1/2 inch long.
Newly laid spotted lanternfly egg masses have a gray, mud-like covering, which can become dry and cracked over time. Older egg masses may lose their covering and appear as four to seven columns of seed-like eggs, 30–50 eggs in total, approximately one inch long.
Attend a Local Meeting
Penn State Extension is hosting public meetings throughout the state to provide information and updates regarding the threat of spotted lanternfly. Attend to learn more about this invasive pest, and how you can help control the impact to your community. Don't see a meeting coming up in your community? Request a local meeting using our online form
Learn More About Spotted Lanternfly
The spotted lanternfly attacks fruit trees, but not the fruit itself. It uses its piercing-sucking mouthparts to feed on the sap in trunks, branches, twigs and leaves. These oozing wounds will leave a greyish or black trail along the bark of the plant.
As it digests the sap, the insect excretes a substance known as honeydew that, along with sap from these weeping wounds, can attract bees and other insects. There may be a buildup of this sticky fluid on infested plants and on the ground below. The honeydew and sap also provide a medium for growth of fungi, such as sooty mold, which can cover leaf surfaces and stunt growth. Plants with heavy infestations may not survive.
Potentially at stake are Pennsylvania's grape, tree-fruit, hardwood, nursery and landscape industries, which generate agricultural crops and forest products worth nearly $18 billion annually. The insect also can cause damage to high-value ornamentals in home landscapes and can affect quality of life for residents.
Native to parts of Asia, spotted lanternfly was identified for the first time in the United States in Berks County in 2014. Since then, the pest has spread to a multicounty area in southeastern Pennsylvania, and sightings have been reported in some neighboring states.
To slow or stop the spread, the Pennsylvania Department of Agriculture imposed a quarantine regulating the movement of plants, plant-based materials and outdoor household items out of the quarantine area. The latest counties under quarantine can be found on Pennsylvania Department of Agriculture's website.
If you find a spotted lanternfly or a suspicious looking egg mass in a municipality where it is not known to exist, you should try to collect it and put it into a vial filled with alcohol to kill and preserve it, or at least take a good picture of it. Report your sighting online to the Pennsylvania Department of Agriculture, or call Penn State Extension at 1-888-4BADFLY (1-888-422-3359). Your discovery could add additional municipalities to the quarantined area.
If you find any life stage of spotted lanternfly in a municipality where it is already known to exist, you should try to destroy it.
Penn State's College of Agricultural Sciences and Penn State Extension are at the forefront of education and research aimed at stopping the spread of this exotic species. Following are resources to help growers, property owners and others understand how to identify the insect, what to do if they find it and how to comply with agency regulations.
Identifying Spotted Lanternfly
Spotted Lanternfly Control and Management
How to Comply with the State Quarantine
Research
News
Partner Organizations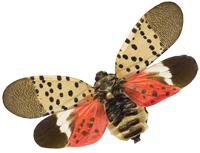 Image Credit: Nick Sloff, Penn State College of Agricultural Sciences.
Thank you for your submission!